Features
Key facts:

duration 2 years (120 ECTS credits)
double degree
Erasmus Mundus scholarships
in-depth instruction in computational linguistics methods and technologies
three specialization tracks
study one year each at two different partner universities in Europe
courses and academic and administrative support in English

Location:

The programme takes place at the Faculty of Computer Science in Donostia-San Sebastian, University of the Basque Country.

Donostia-San Sebastián, Paseo de Manuel Lardizábal, 1
20018
943 01 80 28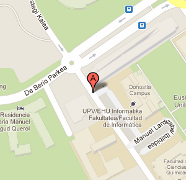 General Programme Design
Aimed at:
Applicants must have a Bachelor degree or equivalent in the area of (Computational) Linguistics, Language Technology, Cognitive Sciences, Computer Science, Mathematics, Artificial Intelligence, or other relevant disciplines, subject to the consent of and the approval by the consortium's admission committee.
Duration:
Two academic years.
Student mobility tracks:
The program involves studying one year each at two of the European partner universities.
Language of instruction:
English
Scholarship Scheme:
The EM LCT Master has successfully passed the highly competitive selection of the EU. Out of hundreds of study programs, LCT has once again been considered one of the best European Master programs and the EU will grant Erasmus Mundus scholarships for another 5 year period.

Under the Erasmus Mundus Brand Name program, the LCT program also accepts applications from students who have their own funding.
Summary of Study Programme:
The course consists of Optional Modules and Advanced Modules in Language Technology and Computer Science, complemented by an Intership and a Masters thesis, for a total of 120 ECTS credits.
General Information:
Academic Manager:
Alicia Pérez
Faculty of Engineering in Bilbao
Rafael Moreno 'Pitxitxi', 2. 48013, Bilbao
+34 94 601 7432, emlct@ehu.eus

Information:
Oihana Imaz
Faculty of Informatics
P. Manuel de Lardizabal 2, 20018 Donostia
943 018564, oihana.imaz@ehu.eus