Workshop de internacionalización: Definiendo infraestructura y nuestras necesidades (1 julio 2021)
Después del éxito del primer Workshop de INTELE celebrado el pasado 25 de noviembre, estamos organizando un segundo Workshop que se celebrará el 1 de julio (daremos los detalles de horarios más adelante) con el objetivo de definir nuestras necesidades para la futura infraestructura. Al comienzo del Workshop se ofrecerá información sobre los avances de la Red INTELE y sobre cómo participar en sus actividades, así como se darán a conocer los resultados de los contactos mantenidos con las administraciones responsables de la financiación de las infraestructuras de investigación a nivel autonómico y estatal. 
No obstante, la mayor parte de la reunión será una sesión de trabajo durante la cual se trabajará en 5 áreas por grupos (Historia, Sociología, Comunicación, Musicología; Lengua, Lingüística, Sociolingüística, Traducción, Literatura, Teatro, Filología; Biblioteconomía, Museología, Arte, Arqueología, Arquitectura; Educación y Derecho) con el objetivo de discutir la situación y las necesidades de cada área.
El objetivo principal de esta reunión es hacer una lista entre todos de las necesidades y los retos futuros de la investigación española en las disciplinas de Humanidades y Ciencias Sociales que trabajan con textos y en el marco de la necesaria digitalización de métodos y procesos. La misión es elaborar entre todos un ránking fundamentado de las infraestructuras digitales que sean el apoyo necesario para los investigadores en España, o al menos un apoyo igual a los investigadores europeos que les capacitan para entrar en consorcios y acceder a fondos europeos. 
Así pues, en este segundo Workshop queremos reunir a investigadores, expertos y responsables de la investigación de diferentes instituciones para obtener una visión informada de las necesidades ahora y a cinco años vista.
Workshop de internacionalización
FORMATO: Virtual
CONTACTO: intele.hitz@ehu.eus
PROGRAMA: Propuesta del día de trabajo.
9.00 SESIÓN de bienvenida y presentación del día y de la metodología de trabajo
9.15 SESIÓN 1: Plenaria. INFRAESTRUCTURAS PARA LA INVESTIGACIÓN EN HUMANIDADES Y CIENCIAS SOCIALES
10.00 SESIÓN 2: Por grupos de interés. SERVICIOS OFRECIDOS EN LAS INFRAESTRUCTURAS PARA LA INVESTIGACIÓN EN HUMANIDADES Y CIENCIAS SOCIALES
11.30 SESIÓN 3: Plenaria. COMPARTIR LISTAS DE NECESIDADES
PAUSA: 15'
12.15 SESIÓN 4: Plenaria. PRESENTACIÓN DE INFRAESTRUCTURAS EUROPEAS
13.00 SESIÓN 5: Por grupos de interés. PARTICIPACIÓN DE ESPAÑA EN LAS INFRAESTRUCTURAS
14.00 SESIÓN 6: Plenaria. COMPARTIR LISTAS DE ACCIONES
14.15 Sesión Final. Plenaria. El grupo de personas que se hayan constituido como 'rapporteurs' resumirá las conclusiones de la jornada y producirá un informe que se hará público en la web de la red.
14.30 Agradecimientos y clausura de la sesión de trabajo.
PROGRAMA sobre CLARIAH: Ejemplos y soluciones para el desarrollo de infraestructuras de investigación de humanidades y ciencias sociales: Soluciones desde Bélgica y Portugal de cómo desarrollar infraestructuras.
16.30 Sally Chambers (Ghent Centre for Digital Humanities and KBR, Royal Library of Belgium): Interdisciplinary collaboration between DARIAH and CLARIN: a Belgian Solution. SLIDES
17.15 Antonio Branco: Users are your first asset if you wish to set up a research infrastructure: a report from PORTULAN CLARIN. SLIDES
18.00 Open discussion, questions and comments.
PONENTES: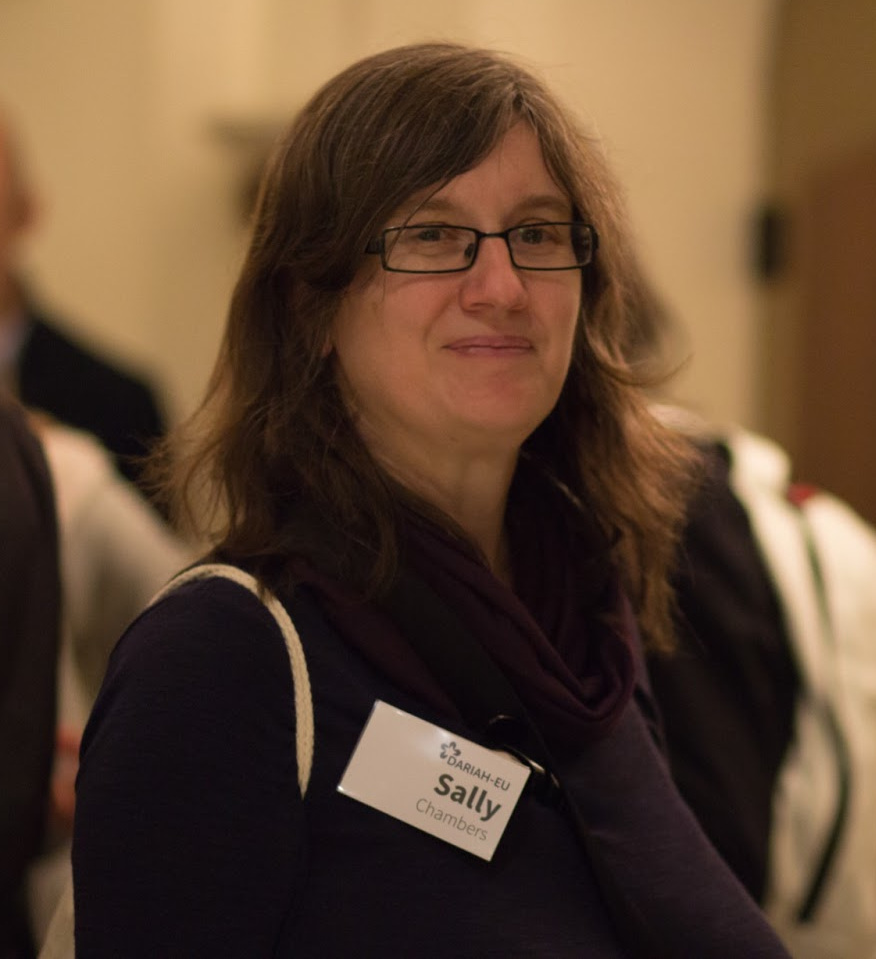 Sally Chambers(Ghent Centre for Digital Humanities and KBR, Royal Library of Belgium) is Digital Humanities Research Coordinator at the Ghent Centre for Digital Humanities, Ghent University, Belgium where she coordinates the CLARIAH: Open Humanities Service Infrastructure and is National Coordinator for DARIAH Belgium.  Sally is Chair of the DARIAH-EU National Coordinator Committee and member of the DARIAH-EU Senior Management Team. Since late 2020, she divides her time between GhentCDH and the KBR, Royal Library of Belgium, where she coordinates the DATA-KBR-BE project to facilitate data-level access to KBR's digitised and born-digital collections for digital humanities research.
 This presentation will describe how the DARIAH and CLARIN consortia were established in Belgium and how they went on to join forces as CLARIAH.  Furthermore we will outline the three major infrastructural challenges that CLARIAH intends to address including: a) data-level access to digitised or born-digital resources, b) the development of a Linked Open Data ecosystem for the humanities and c) how interdisciplinary collaboration is essential for moving towards Humanities-centred Artificial Intelligence (AI). Finally we will explore how DARIAH and CLARIN reach out to the research communities in Flanders and Belgium illustrating a number of concrete research scenarios and user stories, with the aim of demonstrating the essential role that research infrastructures play in enabling 21st Century scholarship in the arts and humanities.
Title: Interdisciplinary collaboration between DARIAH and CLARIN: a Belgian Solution  

Ver presentación 

Ver vídeo
Summary: Belgium played an active role in the European Research Infrastructures DARIAH and CLARIN from the outset. Belgium is a Founding Member of the DARIAH-EU. Flanders, the Dutch-speaking part of Belgium, has also been active in CLARIN via the Dutch Language Union from the start. Inspired by the successful sister consortium in the Netherlands, CLARIAH-NL, and the increasing number of national DARIAH and CLARIN members considering joining forces across Europe, from 2018, DARIAH made the strategic decision to strengthen our collaboration with the CLARIN community in Flanders. 
In 2019, DARIAH was awarded an initial phase of funding (2019-2021) to start exploring how DARIAH and CLARIN could work together in Flanders. From 2021 onwards, DARIAH and CLARIN  in Flanders was established as a formal consortium funded by the Research Foundation Flanders (FWO)'s International Research Infrastructure (IRI) Programme (2021-2025). The CLARIAH-VL Open Humanities Service Infrastructure aims to advance digitally-enabled research in Humanities and the Arts by building a crucial bridge between Digital Humanists (DARIAH) and Computational Linguists (CLARIN) as well as stimulating interdisciplinary collaboration with data scientists and AI experts.  
 Antonio Branco: University of Lisbon, Faculty of Sciences, Department of Informatics. He is a SCIENTIST whose research is devoted to Artificial Intelligence and its subarea of Natural Language Processing, with a special focus on the technological preparation of the Portuguese language for the digital age, aiming thus at contributing to enhance the citizenship of its speakers in the information society. He is the DIRECTOR GENERAL of PORTULAN CLARIN Research Infrastructure for the Science and Technology of Language. This multi-disciplinary infrastructure relies on an open network of more than 20 organizations and research centers from the areas of Artificial Intelligence, Engineering, Linguistics and Psychology, among others. It belongs to the Portuguese National Network of Research Infrastructures of Strategic Interest and it is the national node of the European Infrastructure CLARIN ERIC, with 20 member countries.
He is also the SCIENTIFIC DIRECTOR of a R&D Unit of the Faculty of Sciences of the University of Lisbon, the NLX Natural Language and Speech Group, of which I was the founder almost 20 years ago. This group is devoted to research on Artificial Intelligence, in the sub-area of Natural Language Processing, with special focus on the Portuguese language, and counted so far on the contributions of over 70 collaborators from 13 countries. Finally, he is the PRESIDENT (2018-20), elected by its Board, of ELRA European Language Resources Association, the largest scientific association for language technology in Europe, with headquarters in Paris.
Title: Users are your first asset if you wish to set up a research infrastructure: a report from PORTULAN CLARIN

Ver presentación 

Ver vídeo
Summary: It is not data. It is not software. It is not services. It is not instruction facilities. It is users, the most fundamental asset of a research infrastructure on the science and technology of language: they will bring --and share-- data, software, services and instruction. They just need to be helped to help others and themselves, and that's the basics of our infrastructure's mission.
The PORTULAN CLARIN infrastructure pursue its mission by seeking to bring scientific, professional or personal advantages to its users by means of its operation being primarily centered on them. This presentation will report and share the options taken and the lessons learned in our infrastructure about users, as a way to open the conversation with the colleagues in the audience on any other workshop related topic of their interest.